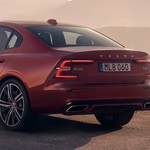 Sometimes, you must make it to the summit. The Volvo S60 is a luxury-class compact sedan that has the power to take you there. The following two performance features will give you a sample of what this vehicle can do for you.
The S60 comes standard with a start/stop function since you've got more important things to use your fuel for than sitting in traffic. This innovative system temporarily shuts down the engine when the car stops for an extended period of time. Use it to save fuel at traffic lights or in Cleveland, OH rush hour traffic.
Rolling backward down a hill is not safe. Fortunately, the S60 Hill Start Assist system prevents you from moving backward when starting on a hill. Taking a Montrose Volvo of Cleveland test drive is an excellent way to ask questions and experience these exciting Volvo S60 features.