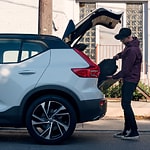 For a luxury subcompact SUV that offers style and amenities to spare, the Volvo XC40 is the only name to remember. This top-of-the-line vehicle is at Montrose Volvo of Cleveland right now, so stop by to have a look and take one out for a test drive to see for yourself what sets it apart.
Whether you're interested in sporty detailing, visually appealing exterior accents, a broad choice of color schemes or all of the above, you'll find it in the XC40 lineup. Three different versions of the XC40 are available at prices that start around $35,000.
All XC40 models are fronted by an imposing grille with the Volvo logo and diagonal cross-bar. Distinctive lighting assemblies in front and back make the XC40 truly stand out, and the unbelievably large moonroof opens up the cabin to the world outside.